In the News
SAMHSA HEROES Project Launches with New Grant Award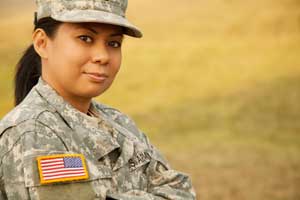 The federal Substance Abuse and Mental Health Services Administration (SAMHSA) has awarded Samaritan Village a $1.1 million grant to help chronically homeless female military veterans find permanent homes and receive substance abuse treatment. With its grant partner "Housing + Solutions," Samaritan Village will help at least 85 women over the next three years. The new Samaritan Village program is being called the HEROES (Housing, Employment and Recovery Opportunities for Empowering Self-Sufficiency) Project.
The funds are supporting case management and housing placement services to homeless female veterans referred by the New York City Department of Housing Services (DHS). Qualified candidates staying at Samaritan Village's Van Siclen Women's Shelter will be moved to permanent housing units managed by Housing + Solutions. Case managers will also identify which women require treatment for substance abuse disorders.
"We are very excited to begin our first partnership with Housing + Solutions' Founder and Executive Director Rita Zimmer who has long been a pioneer in the fight to end homelessness among women," said Steve Rockman, Samaritan Village's Vice President of Real Estate and Housing. Samaritan Village staff administers the program, which operates from Van Siclen Women's Shelter.
Since 2002, Housing + Solutions has provided community-based transitional and permanent housing with supportive services for formerly homeless women who are single or with families. The agency offers housing units at eight locations in Brooklyn and Staten Island.
SAHMSA's Grant for the Benefit of Homeless Individuals-Services in Supportive Housing (GBHI-SSH) encourages the development of community infrastructures that combine treatment and services for substance use, co-occurring substance use and mental health disorders, permanent housing, and other critical services for veterans and non-veterans who experience homelessness or chronic homelessness.