In the News
Clients Win at Recovery Arts Festival
Three Samaritan Village clients can now claim the title of prizewinning artists. They received 1st Place ribbons for their recovery-themed artwork in the 12th Annual New York State Recovery Fine Arts Festival coordinated by Friends of Recovery-NY.
Each year, Friends of Recovery-NY showcases the artistic expressions of individuals currently in treatment or recovery. The art is focused on the theme of recovery, a life without drugs or alcohol, in keeping with September's National Recovery Month.
Samaritan Village encourages its clients to take part in the annual competition. This year's winners are currently participants in the agency's substance abuse treatment programs. Marc Y. received 1st Place in the Acrylics category for his piece called "John 16:33" (pictured), which features Samaritan Village's multi-colored mosaic logo. In the Pen and Ink category, Rainey S. received 1st Prize for his drawing "Never Alone." In the Pencil category, Andrew G. received 1st Place for "Voices in My Head."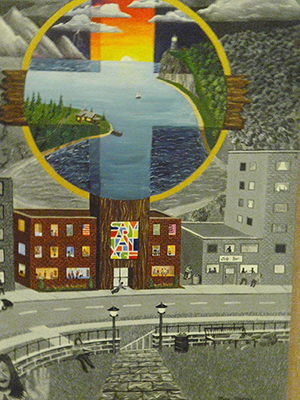 The art showing took place in the Governor Nelson A. Rockefeller Empire State Plaza in Albany, N.Y. The Plaza is home to a world-class modern art collection, New York State's Museum, Library and Archives, a distinctive performing arts center, convention center and more.
Friends of Recovery-NY is comprised of New York State residents who are in long-term recovery from addiction, as well as their families, friends and allies. The group actively organizes and mobilizes the recovery community so as to speak effectively with one voice.