In the News
Veteran Patients Honor Three at First Appreciation Ceremony
Clients of Samaritan Village's 43rd Street Veterans Program honored three individuals at its first Appreciation Ceremony on March 16th. Attended by 60 guests, the event recognized the honorees' commitment and support to clients undergoing treatment at the Manhattan-based program.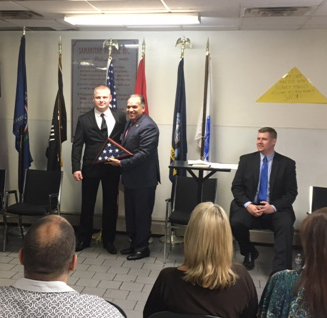 Recognized at the event were Samaritan Village's President and CEO Tino Hernandez, NY Veterans Legal Assistance Project Staff Attorney David Falcon, Esq., and NYC Chapter Representative of the Military Order of the Purple Heart (MOPH) Fernand Ressey.
"The clients have long noticed and appreciated the care and support these three men have provided them throughout their treatment," said Beverly Houston, Program Director of the 43rdStreet Veterans Program. "They wanted to express their appreciation in a tangible way that was fitting of their experience as military veterans."
The ceremony kicked off with a color guard of clients representing all of the military outfits. A welcome was given by Chris, a 43rd Street client, and an encased and inscribed U.S. flag was presented to Hernandez by another client Valentyn, a 31-year-old Marine Corps veteran who served one tour in Afghanistan and one in Iraq. Hernandez was honored because of his frequent visits, personal attention and encouragement to the clients and the program.
Falcon has spent countless hours assisting clients with various legal activities including military discharge upgrades and living wills, as well as providing his expertise around VA benefits. Falcon is a Staff Sergeant in the New York Air National Guard where he serves as a Quality Assurance Inspector with the 109th Airlift Wing in support of Operation Deep Freeze, which provides C-130 transport to and from Antarctica.
Ressey represented MOPH for the recent $1,000 donation made by the NY chapter to 43rd Street. Members from MOPH visit the facility quarterly, giving motivational speeches and distributing care packages with items such as toiletries, winter gloves and socks.
Loree Sutton, MD, Commissioner of the Mayor's Office of Veterans Affairs, presented the opening remarks at the ceremony. Guests to the event included clients from Samaritan Village's 43rd Street Veterans Program, Ed Thompson Veterans Center and the Supportive Services for Veteran Families Program; representatives from the Black Veterans for Social Justice and the NY Legal Assistance Project; numerous executives and staff members from Samaritan Village including VP of Residential Treatment Jim Hollywood, VP of Recovery Services and Community Partnerships Roy Kearse, the two Assistant VPs of Residential Treatment Deirdre Rice-Reese and Harry Scott, and Samaritan Village Board member Jane Gibson.
The 43rd Street Veterans Program is a 48-bed substance abuse treatment program for male veterans. It was established in 1996. Clients at the facility call themselves the "43rd HERD."