In the News
2016 Samaritan Daytop Foundation Gala
(October 11, 2016 - New York, NY) Samaritan Daytop Foundation - working to end substance abuse and homelessness - will host its first Gala on October 26th at New York City hotspot, Tribeca Rooftop. Emceed by ABC News personality and 20/20 co-anchor, Elizabeth Vargas, and co-hosted by our community's leading voices dedicated to reversing the epidemic of addiction and homelessness plaguing our community. The foundation will be honoring, NBA Hall of Famer and current St. John Head Coach Chris Mullin, Real Estate Investor Eric Hadar and Former NBA player Chris Herren. Special recognition will be given to, New York City Department of Social Services Commissioner Steven Banks and New York State Office of Alcoholism and Substance Abuse Services Commissioner Arlene González-Sánchez.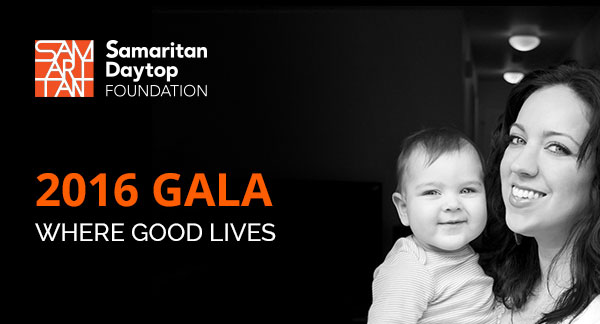 This year's gala celebrates the recent merger of Samaritan Village and Daytop Village, creating one of the state's largest non-profit dedicated to homelessness, addiction treatment, and prevention. With this exciting merger taking place the organization now serves over 30,000 people. The center will help to serve people with substance abuse treatment, mental health, and primary health care. It will provide specialized programs for military veterans, emergency shelter, transitional housing, as well as support service for adults, single mothers, seniors, and children.
"Every day we help thousands of New Yorkers facing adversity through the incredible contributions of people like our honorees – who bring their personal and professional experiences to our organization," said Tino Hernandez, President, and CEO of Samaritan Daytop Village. "Since the merger of Daytop Village and Samaritan Village, our organization has been doing more powerful and impactful work than ever before – thanks in part to fundraisers like the Foundation's Gala."
With the recent merger, Samaritan Daytop Village is excited to step forward with the organization's future and continue providing a range of health and human services to New Yorkers. Influencers from all over the Tri-state area will gather at the fundraiser to fund continued support for its treatment members.
"The battle with substance abuse and homelessness is daunting but the support of an organization like this one makes that battle just a little bit easier," said Chris Mullin, NBA Hall of Famer and St. John's University Men's Basketball Coach. "New York City is my home and the work that Samaritan Daytop Village is doing to help the people of my city is an invaluable contribution that cannot be overstated."
The Gala will run from 6 p.m. to 9 p.m. at Tribeca Rooftop located at 2 Desbrosses Street New York, New York 10013. Hors d'oeuveres, desserts, wine and beer will be served throughout the event. Tickets are $350 per person and can be purchased at http://www.samaritan.foundation/2016gala/. Sponsorship opportunities are available.
###
About Samaritan Daytop Village: For more than 50 years, Samaritan Daytop Village has been wholly dedicated to improving the quality of life for New Yorkers facing adversity. Samaritan Daytop Village has evolved into a nationally-recognized health and human service organization, doing more good than ever imagined. Today, Samaritan Daytop Village provides comprehensive health and human services to over 30,000 people each year through a network of more than 50 facilities located throughout New York City, Long Island and upstate New York, and we continue to grow.