In the News
PARC Bronx (Peer Alliance Recovery Center) Opens for People in Recovery from Substance Use Disorder
(August 22, 2019 – BRONX, NY) Officials from Samaritan Daytop Village, joined by State and local officials and members of the community, today marked the grand opening of PARC Bronx (Peer Alliance Recovery Center) in the Mott Haven section of the Bronx. PARC Bronx provides members of the community with the tools and resources they need to lead sober and productive lives. The center offers critical one-on-one recovery coaching, workshops, group sessions, computer training, social and recreational activities, vocational assistance and peer-to-peer support for Bronxites battling substance use disorder.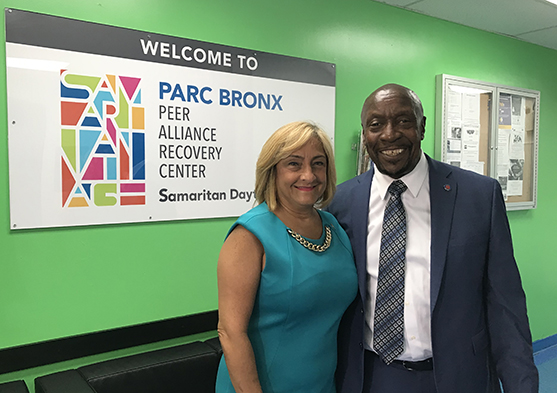 The center is being funded in part with $350,000 from the federal State Opioid Response Grant, administered by the NYS Office of Alcoholism and Substance Abuse Services (OASAS).
At PARC Bronx, participants, as well as their families and friends, receive guidance for a lifetime of wellness, learn how to remove the common barriers to recovery and avoid relapse at this new, supportive and welcoming community space where recovery from addiction is embraced without shame or judgment. Experts in recovery from substance use disorder are also on hand to to provide information and education about treatment and to help families navigate insurance concerns.
Two years ago, Samaritan Daytop Village opened the doors to its first Peer Alliance Recovery Center in Jamaica, known as PARC Queens. Its success and the need for such services in the Bronx were the catalysts behind the opening of the new center in Mott Haven.
In 2018 alone, opioids claimed the lives of more than 3,000 New Yorkers – 272 were from the Bronx. In 2017, the Bronx had the highest rate and number of overdose deaths, compared to the other four boroughs. Mott Haven is one of five New York City neighborhoods with the highest number of heroin and fentanyl overdoses.
Mitchell Netburn, President & CEO, Samaritan Daytop Village, said, "Without a doubt, the opioid crisis has hit this community hard. And all too often, we only hear about the tragic consequences. What we don't hear enough about are the stories of the people who are working to break free of the chains of addiction. We don't hear about the thousands of people who wake up and enjoy another day in recovery. They are living success stories. And right here, in PARC Bronx, starting today, we will open a new chapter and fill it with stories of people who have changed their lives and prove every day it is possible to overcome substance use disorder. We applaud Commissioner Arlene González-Sánchez of the NYS Office of Alcoholism and Substance Abuse Services for her visionary leadership which made PARC Bronx possible."
"The peer support that is available at recovery centers throughout New York State is an important part of the help we can offer people who are trying to rebuild their lives from addiction," OASAS Commissioner Arlene González-Sánchez said. "The addition of this new recovery center in the Bronx will further expand the availability of that support and help more people in the New York City area who have been affected by this disease."
Also on hand to mark the opening of PARC Bronx were NYS Assemblywoman Carmen Arroyo who serves on the Alcoholism & Drug Abuse Committee and Deputy Bronx Borough President Marricka Scott-McFadden. Both spoke during the program. A representative of Bronx Community Board #1 was also at the event as were Roy Kearse, Vice President of Recovery Services and Community Partnerships, and Jessica Feliciano, PARC Bronx Director from Samaritan Daytop Village.
Chris Kelly, a former Samaritan Daytop Village client who is now in recovery and working as a PARC Bronx Recovery Coach, spoke of the impact that PARC has had on his life. He said, " Every morning, I wake up with exuberance and zeal because at PARC Bronx I help guide and support participants on their recovery journeys. PARC Bronx is an absolutely amazing place and a blessing for all who can use it. As peers, we meet people where they are in their lives. Here, members can come to grow in spirit, career and in life. PARC is there every step of the way without judgment or rejection and holds a special place in my heart."
Kelly is one of the hundreds of people trained as Recovery Coaches by Samaritan Daytop Village. Recovery coaching is a non-clinical, peer-based supportive service, and is an essential and stabilizing force for individuals seeking to support recovery – either their own or of others. The intensive 30-hour training is available at PARC Bronx and is open to anyone interested in recovery.
Membership at Samaritan Daytop Village's PARC locations is free and open to the public.
For information about all of the services and programs offered at PARC Bronx please call (929) 244-1500 or email PARCBRONX@samaritanvillage.org.
For nearly 60 years, Samaritan Daytop Village has been improving the quality of life for New Yorkers. We are nationally recognized for our treatment of substance use disorder as well as for the veteran-specific approach we pioneered. Our continuum of services also includes health and mental health care, transitional and supportive housing, educational and vocational assistance, peer-assisted recovery, and specialized programs for adolescents, families and seniors. Annually, Samaritan Daytop Village serves over 33,000 people at more than 50 facilities throughout New York City, Long Island and upstate New York, and we continue to grow.
###