What's Changed Over the Past Year?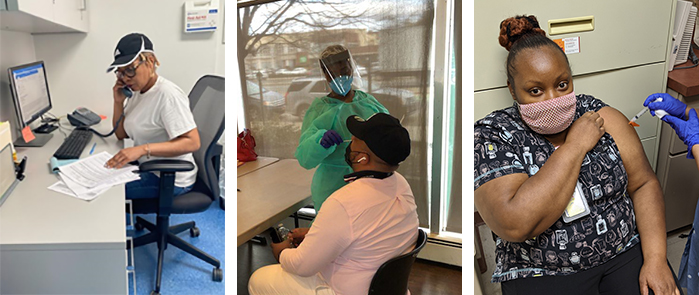 One year ago, the City, State and country began an historic shutdown in response to the COVID-19 pandemic. As an essential service, we remained open to serve our clients across 10 counties including all five of the NYC boroughs.
Health and safety guidelines required essential service providers to adjust their operations. In response, our staff changed the way they engaged with our clients – and many of those adjustments are still in place. Here is a guide to some of those changes.
We Have Remained Open
Samaritan Daytop Village has always stayed open. Our Residential Treatment Programs and single and family transitional residences continue to operate around the clock, 24/7. Other programs, including Outpatient, Opioid Treatment, and PARC, have weekday office hours for clients with appointments. Additionally, staff members have increased phone and web-based communications to safely check on clients' progress and needs.
Visitors Have Been Limited
In keeping with City, State and federal guidelines, our Residential Treatment Programs are still limiting visitors. To submit a request to visit a family member in treatment, contact the program directly.
Telehealth Calls Have Skyrocketed
Telehealth technology has brought the patient-clinician visit to the Internet. Using a web conferencing platform, telehealth allows clients to be assessed and treated at a safe distance without visiting our offices. As well, clients in quarantine across our treatment programs can communicate virtually with counselors, Recovery Coaches, social workers, and other staff through Telehealth.
Today, Telehealth plays an integral role in most of our programs. At the height of the pandemic, half of our Outpatient clients chose virtual instead of office visits. We still receive in-person visits at our nine Outpatient locations and offer Telehealth for those who prefer them.
COVID-19 Testing and Vaccinations
With the assistance of our healthcare services partner, Damian Family Care Centers, we have tested staff and clients in pop-up COVID-19 testing clinics and held program-wide Moderna vaccinations. Vaccinations will continue according to State guidelines.
Several PARC Offerings Are Now Virtual
Members of our two PARC (Peer Alliance Recovery Centers) in Queens and the Bronx take advantage of our free resources. Examples include one-on-one Recovery Coach sessions, trainings, computer labs, and group meetings. PARC staff moved many of their face-to-face meetings to Zoom last year. Last October, the two PARC locations revised their hours to offer in-office appointments and time at the Computer Labs. Additionally, PARC launched a private Facebook Group for members so that the Queens and Bronx programs can use social media to promote upcoming Zoom group sessions, workshops and training courses.
Opioid Treatment Programs Reduced Daily Visitors
Averaging 550 patient visits per day, our two Opioid Treatment Programs completely revamped their operations to reduce the number of daily visitors. By adjusting workflows, the programs received only 150-250 visitors per day while continuing to serve all patients. The programs accomplished this feat through a series of creative initiatives, including, but not limited to:
Staggering each client's visiting schedule
Increasing take-home medication supplies to reduce the need for daily visits
Delivering medications to patients most at risk of COVID-19 infections
Establishing daily or weekly wellness follow-up calls
Assigning new ID cards displaying medication pick-up schedules
To learn more about how COVID-19 health and safety requirements are affecting a particular program, contact the program directly. Visit our website for a list of program phone numbers.