In the News
Samaritan Village Assists Superstorm Sandy Survivors at First Recovery Fair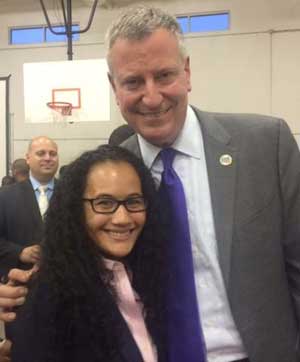 New Yorkers were hit hard by Hurricane Sandy two years ago, with thousands of families made homeless overnight. To alleviate the lingering impact of the superstorm, New York City Mayor Bill de Blasio launched the first Sandy Recovery Opportunity and Resource Fair on October 15, 2014. The event connected New Yorkers with workforce development and recovery and resiliency programs. Samaritan Village, which helped hundreds of displaced residents in the aftermath of Hurricane Sandy, participated in the fair along with about 50 government agencies, businesses and organizations.
Samaritan Village's Enerria Edmond from the Myrtle Avenue Men's Shelter, Jeffery Walton from Admissions, and Christine Alicia from the Human Resources Department attended the fair to offer the agency's programs as a resource. Attendees learned about our transitional housing, residential and outpatient drug treatment programs, and services for veterans. Additionally, job seekers received a list of Samaritan Village job openings with the capability to apply online or at the fair.
Last year, the City's Family Relocation Assistance Program, Samaritan Village helped over 300 households return to their pre-Sandy addresses, secure new permanent housing or find other housing.