In the News
Santa's "Senior" Helpers Bring Joy to Infants & Their Mothers Who Are Recovering From Addiction
(December 21, 2018 - New York, NY) There were plenty of hugs and holiday cheer today when a dozen of Santa's senior helpers from the Woodside Senior Center brought toys and handmade blankets, hats and booties to the residents of the Young Mothers Program, an intensive residential substance use disorder treatment program where 29 young women live with their children while the moms work on their recovery. The babies range in age from newborn to three years old.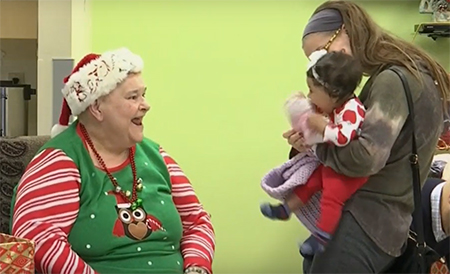 Now in its sixth year, this intergenerational party brought together two of Samaritan Daytop Village's programs in a morning filled with holiday comfort and joy. The seniors spent months knitting their made-with-love gifts for some of the littlest and most vulnerable New Yorkers and their moms.
After the gifts were distributed, holiday refreshments were served while many of the seniors cuddled and played with the babies. The seniors shared their wisdom and stories about motherhood with the young moms in this Upper West Side program.
Participating in the joyous event was Mitchell Netburn, President and CEO of Samaritan Daytop Village, who said, "The holidays sometimes can be difficult for our program participants. But today, the hugs, sage advice and blankets so lovingly made by the members of the Woodside Senior Center Knitting Club show our young moms that someone cares. As our young mothers continue on the path to recovery, I'm sure the warmth they felt today will be with them for years to come."
"This time of year is especially tough," said a young mother in the program. "It means a lot to me that the seniors from Woodside came to visit us. They brought such joy to me and my child and made us feel part of a family during the holidays."
New York City Council Member Mark D. Levine, who represents the 7th District in Northern Manhattan said, "For New Yorkers who have been struggling recently, it's heartwarming that organizations like Samaritan Daytop Village are creating a home and an environment to make the holidays an easier time for young mothers as they recover from substance use disorders. I'm grateful for Samaritan's leadership and am looking forward to our continued work together."
Samaritan Daytop Village is one of New York's largest health and human services non-profit organizations.
The Woodside Senior Center encourages those 60 and older to embrace an active, healthy lifestyle. The Center provides the more than 500 members from the Woodside, Astoria and Long Island City neighborhoods with fitness, art and computer classes, access to medical and visiting nurse services, senior-focused lectures and organized trips.
The Young Mothers Program is an intensive residential substance use treatment program where women can live with their young children while working on their recovery and enhancing their parenting skills in a supportive, structured environment. Located in upper Manhattan, the program has been serving the community for over 20 years. During the work day, while their children are attended to in on-site child care facilities, the mothers participate in a multi-faceted program designed to combat alcohol and drug addiction, and help them access education, employment, and training services. In addition, the program offers in-house medical services that focus on prenatal, maternal and pediatric health care.
###
About Samaritan Daytop Village: For more than 50 years, Samaritan Daytop Village has been improving the quality of life for New Yorkers facing adversity. We are nationally-recognized for our work in treatment for substance use disorder, specialized services for veterans, and services for homeless individuals and families. Annually, Samaritan Village serves over 33,000 people at more than 50 facilities throughout New York City, Long Island and upstate New York.