In the News
Rep. Delgado Visits Samaritan Daytop Village Residential Treatment Program in Ellenville
Reference press release from U.S. Congressman Antonio Delgado
July 2, 2019
Today, Rep. Antonio Delgado visited the Samaritan Daytop Village Cape Road Residential Treatment Program in Ellenville to meet with patients, including a client from the Women Veterans Program, and hear from the administrators and medical professionals.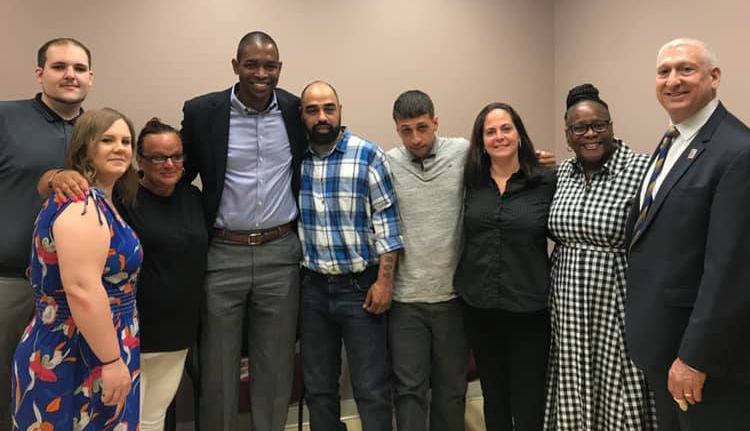 "It's critical that we remove the stigma around substance abuse which can deter people from seeking treatment for addiction," said Rep. Delgado. "I am very grateful to everyone at Samaritan Daytop Village for sharing information about their work helping people achieve a long-lasting recovery. Our female Veterans also face a unique set of challenges while serving our country that can lead to substance abuse. Studies indicate they are twice as likely as male Veterans to develop post-traumatic stress disorder and approximately one out of five women Veterans reports military sexual trauma. That's why the programs offered by Samaritan Daytop Village are so important."
"In recent years, no part of New York State has experienced higher death rates from heroin and opioid use than the Mid-Hudson Valley," said President & CEO of Samaritan Daytop Village Mitchell Netburn. "From working professionals to students to military veterans, no one is immune from its deadly grip. We are deeply grateful to Congressman Delgado for being here with us today at Cape Road and for his support of all of Samaritan Daytop Village's local-area residential treatment facilities where, every year, we help 700 people overcome substance use disorder and rebuild their lives. We look forward to working with the Congressman and his staff to continue to focus the public's attention on this devastating crisis and to improve access to substance use treatment services throughout the state."
Samaritan Daytop Village has two facilities in the area, the Cape Road Residential Treatment Program and the Ellenville Residential Treatment Program. The Cape Road program exclusively serves clients from the Mid-Hudson Valley who are seeking treatment for substance abuse. The Ellenville Residential Treatment Program is the first licensed residential treatment facility exclusively for women veterans in New York State. Operations of the program began on January 31, 2011.
###