In the News
Santa's "Senior" Helpers Spread Holiday Cheer
Woodside Senior Center members visit the Young Mothers Program on the Upper West Side bearing gifts of blankets, booties, hats and toys

(New York, NY, December 9, 2019) - Holiday cheer filled the halls of Samaritan Daytop Village's Young Mothers Program, an intensive residential substance use disorder treatment program on the Upper West Side, when a vanload of Santa's senior helpers from the Woodside Senior Center in Queens visited today to celebrate the holidays with moms in recovery and their babies.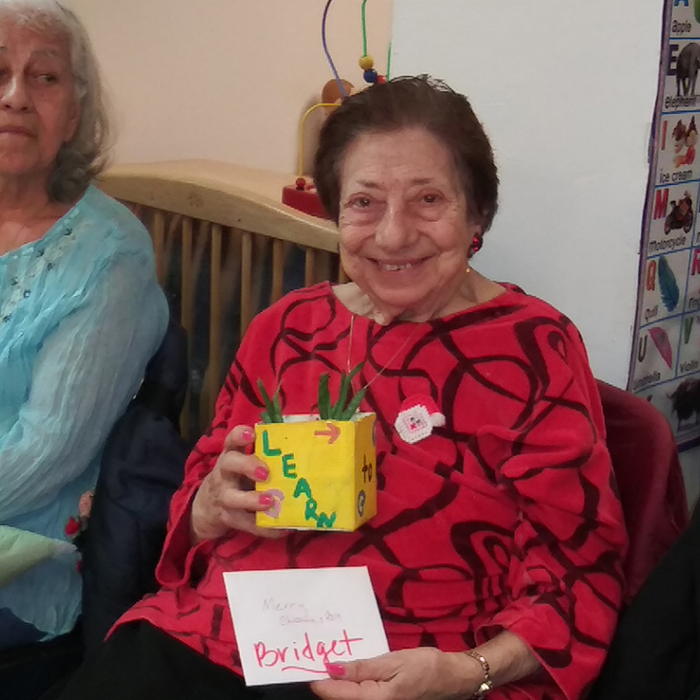 The intergenerational party, now in its seventh year, brought together two of Samaritan Daytop Village's programs in a morning filled with the joy of the season. For the center's seniors, the party started over the summer, when they began knitting and crocheting their made-with-love gifts of blankets, hats and booties for these little New Yorkers and their moms. In a tradition that started last year, the moms made thank-you cards for the seniors.
After the cards and gifts were exchanged, holiday refreshments were served. The seniors admired and cuddled the babies and toddlers while sharing their experiences of motherhood with the young moms in the program.
Observing the lively celebration, Harry Scott, Jr., Assistant Vice President of Residential Treatment, said, "The holidays can be particularly difficult for many of our young mothers in recovery. The visit from the members of the Woodside Senior Center, who bring such warmth and happy energy, in addition to those wonderful, handmade blankets, hats and booties, shows how much people care. As the moms continue their wellness journeys, it helps to know that there are people rooting for them."
The Woodside Senior Center encourages Queens residents 60 and older to embrace an active, healthy lifestyle. The Center provides the more than 500 members from the Woodside, Astoria and Long Island City neighborhoods with fitness, art and computer classes, access to medical and visiting nurse services, senior-focused lectures and organized trips.
The Young Mothers Program is an intensive residential substance use treatment program where up to 36 women can live with their young children while working on their recovery and enhancing their parenting skills in a supportive, structured environment. Located in Upper Manhattan, the program has been serving the community for over 20 years. During the workday, while their children are attended to with on-site childcare, the mothers participate in a multi-faceted program designed to combat alcohol and drug addiction, and help them access education, employment, and training services. In addition, the program offers in-house medical services that focus on prenatal, maternal and pediatric health care.
###
About Samaritan Daytop Village
For nearly 60 years, Samaritan Daytop Village has been improving the quality of life for New Yorkers. We are nationally recognized for our treatment of substance use disorder as well as for the veteran-specific approach we pioneered. Our continuum of services includes health and mental health care, transitional and supportive housing, educational and vocational assistance, peer-assisted recovery, and specialized programs for adolescents, families and seniors. Annually, Samaritan Daytop Village serves over 33,000 people at more than 50 facilities throughout New York City, Long Island and upstate New York, and we continue to grow.