PARC Honors Five Women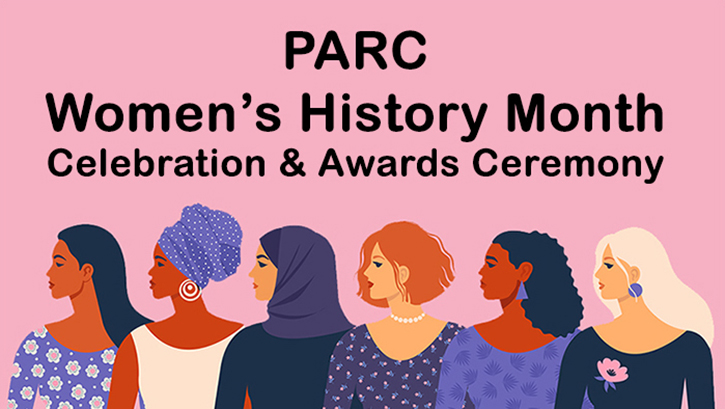 During Women's History Month, PARC (Peer Alliance Recovery Center) made some history of its own. Staff from the Queens and Bronx locations honored five women who made groundbreaking contributions to the Recovery Movement. The free and virtual event was streamed live on March 29th via Zoom.
The PARC Women's History Month Celebration & Awards Ceremony celebrated the impact of the following honorees: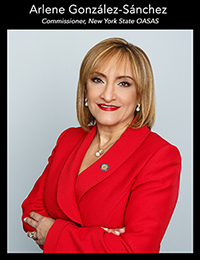 Arlene González-Sánchez
Commissioner
New York State Office of Addiction Services and Supports (OASAS)
Arlene González-Sánchez is the woman behind the ongoing transformation of New York State's OASAS. Now celebrating 10 years as Commissioner, Arlene is realizing her vision of a system of care that is comprehensive, patient-centered, and family-focused. Under her progressive leadership, Arlene is establishing culturally competent adolescent clubhouses and recovery centers for previously unserved groups including the LGBTQ and Native American communities.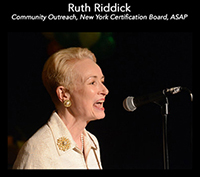 Ruth Riddick
Community Outreach
NY Certification Board, ASAP
For the past five years, Ruth Riddick has been the face of the New York Certification Board at ASAP. She educates the field about the value of peer recovery and the certification process. She also develops community partnerships on behalf of the Board. A peer recovery training expert, Ruth has notably created and built the ASAP-NYCB Trainer Registry, which she also manages statewide. She also leads the training programs for the Veteran Supported Recovery specialty peer certification and the Peer Recovery Exam Prep Workshop.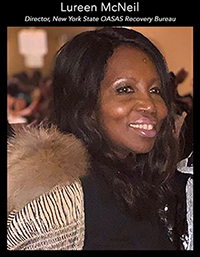 Lureen McNeil
Recovery Services Bureau Director
New York State Office of Addiction Services and Supports (OASAS)
Lureen McNeil has worked for OASAS for over three decades. For the Recovery Services Bureau, she oversees New York State's 31 recovery centers, including PARC in Queens and the Bronx. Her work also involves policy and research to strengthen the field of recovery. She has a passion for recovery both professionally and personally.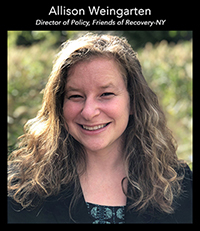 Allison Weingarten
Director of Policy
Friends of Recovery-NY
Allison Weingarten works directly with recovery community organizations like PARC to give recovery advocates the tools they need to prosper. On behalf of Friends of Recovery-New York, Allison brings together local recovery advocates and New York State government decision-makers, helping shape and advance state policies focused on recovery. As a liaison, she shares the latest government policies affecting the recovery community and advocates on our behalf to advance the recovery movement.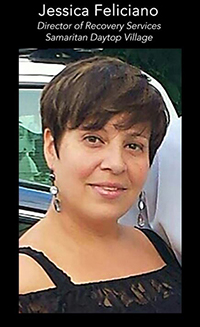 Jessica Feliciano
Director of Recovery Services
Samaritan Daytop Village
Jessica Feliciano manages Samaritan Daytop Village's two PARC (Peer Alliance Recovery Center) locations in Queens and the Bronx. Additionally, she overseesPARC's four funded programs including Community Oriented Recovery & Empowerment Services (CORES), Building a Better Tomorrow, the Opioid Prevention Program II, and Citywide Addiction Support Network. Previously, Jessica managed New York City's first community-based recovery center, Bronx Community Recovery Center, for Phoenix House. She is passionate about serving individuals in medically underserved communities and providing recovery support to areas hardest hit by the opioid epidemic.