Save the Date - Virtual Gala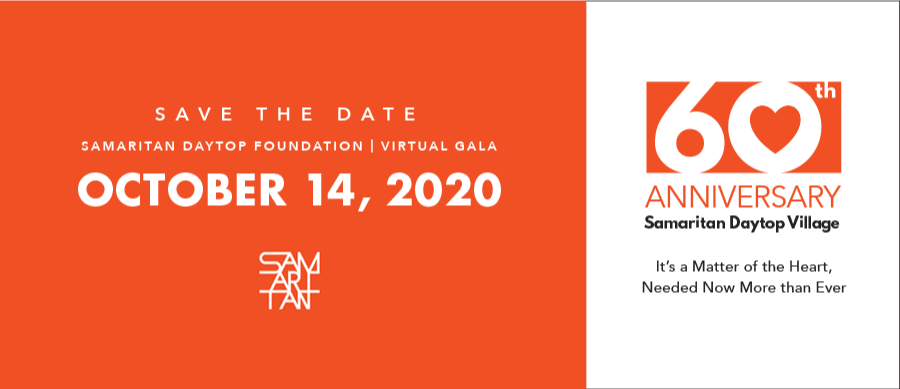 SAVE THE DATE
Samaritan Daytop Foundation
Virtual Gala
Wednesday, October 14, 2020, 6 p.m.
Benefiting Samaritan Daytop Village
on its 60th Milestone Anniversary
The Samaritan Daytop Foundation Gala is our largest fundraiser of the year. Because of the COVID-19 pandemic, we are streaming this highly anticipated event to you as a Virtual Gala. Featuring exciting honorees and special guests, the Virtual Gala presents exclusive opportunities to network with a wide range of attendees on a live streaming platform. This year we celebrate the 60th anniversary of Samaritan Daytop Village.
In these unprecedented times, we need your help the most.
Samaritan Daytop Village continues to address the devastating effects of the COVID-19 pandemic and opioid epidemic while addressing the health imparities caused by systemic racism. Our services are more important now than ever. We remain steadfast in our commitment to empower our clients to overcome these challenges by providing addiction treatment, health and mental health services, and shelters and housing to highly vulnerable New Yorkers.
Proceeds from the Samaritan Daytop Foundation Virtual Gala benefit the programs and services of Samaritan Daytop Village including:
Treatment for substance use disorder
Health and mental health care
Transitional and supportive housing
Peer-assisted recovery
Educational and vocational assistance
Specialized programs for veterans, families and seniors
Purchase Tickets.
Click to view ticket information.
Become a Virtual Gala sponsor.
Click to view sponsorship packages.
Your support helps transform thousands of lives for the better - "It's a Matter of the Heart, Needed Now More than Ever."
For more information, contact Event Consultant Dwight Johnson at info@dwightjohnsondesign.com or 212-889-4694.