Samaritan Daytop Foundation Virtual Gala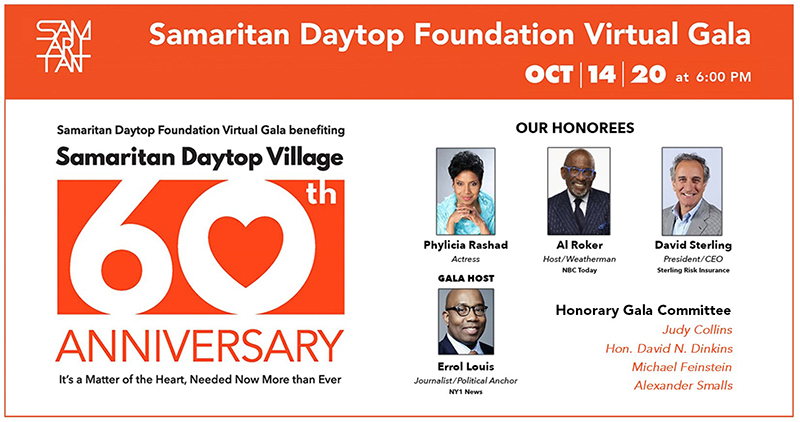 Your support helps transform thousands of lives for the better.
We ask that you support us during these unprecedented times:
Purchase Virtual Ticket(s) Become a Gala Sponsor
Click here to purchase your "virtual seat(s). Click to view our sponsorship packages.
The Samaritan Daytop Foundation Virtual Gala raises critically needed funds to deliver enhanced services, innovative programs, facility improvements and so much more for our clients. This year, our Virtual Gala will spotlight our work from the past 60 years and honor those who have enabled Samaritan Daytop Village to serve its clients better.
Virtual Gala Committee
Colleen Taylor, Board Chair
Mitchell Netburn, President & CEO

Gala Co-Chairs: Jamie Covello | Sher Sparano
Gala Committee: Bernie Kaplan | Richard Haray | Damyn Kelly | Harriet Norris | Roger Oliver | Steve Rockman | SterlingRisk—Brad Dubler
---
In these unprecedented times, we need your help the most.

Samaritan Daytop Village continues to address the devastating effects of the COVID-19 pandemic and opioid epidemic while addressing the health imparities caused by systemic racism. Our services are more critical now than ever. We remain steadfast in our commitment to empower our clients to overcome these challenges by providing addiction treatment, health and mental health services, and shelters and housing to highly vulnerable New Yorkers.
For 60 years, Samaritan Daytop Village has been dedicated to helping the most vulnerable New Yorkers by proactively responding to challenges. We have grown to benefit 33,000 people annually through our life-changing services, including specialized programs for veterans, seniors, children, and families across 10 counties, including all five boroughs of New York City.
Proceeds from the Virtual Gala benefit the People We Serve at Samaritan Daytop Village.
For more information, contact Event Consultant Dwight Johnson at info@dwightjohnsondesign.com or 212-889-4694.
---