Website Lets You "GIVE FROM THE HEART"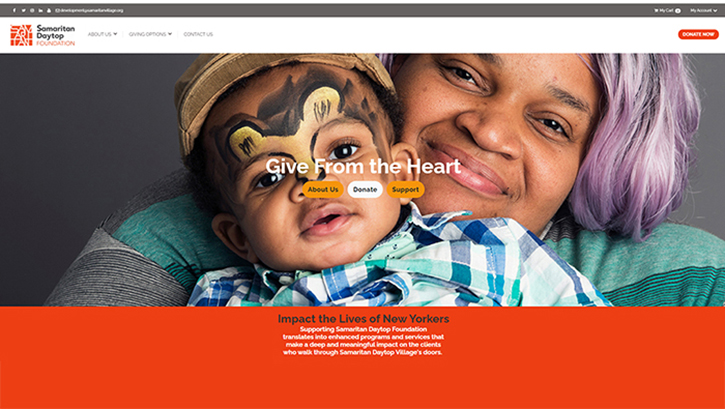 In times of great need, New Yorkers give from the heart. As an organization, we have seen this time and again for more than six decades.
Last year was no different. Generous donors:
Helped replenish supplies of face masks, PPE, digital thermometers and more
Donated meals to our family shelters and seniors
Bought holiday toys for our children
Gave funds to enhance our programs
Held birthday fundraisers
Pledged monthly donations
And so much more
Individuals went above and beyond to give but some were unaware of the many creative donation options that existed. In response, Samaritan Daytop Foundation, which supports the mission of Samaritan Daytop Village, launched a new website to build awareness and ease the donation process.
The site is the starting point for creating DIY Fundraisers, personally organized fundraisers in which Samaritan Daytop Foundation is the beneficiary of the proceeds. Individuals also learn how to make in-kind donations, give recurring donations, create Facebook fundraisers, and request to become event sponsors. Certain options such as making the Foundation a beneficiary in a will requires a conversation with the Development Department.
Created on the GiveCloud platform, visitors can access the site directly at https://samaritandaytopfdn.givecloud.co/ or click the Foundation or Donate buttons on the Samaritan Daytop Village website. For more information, contact the Development Department.